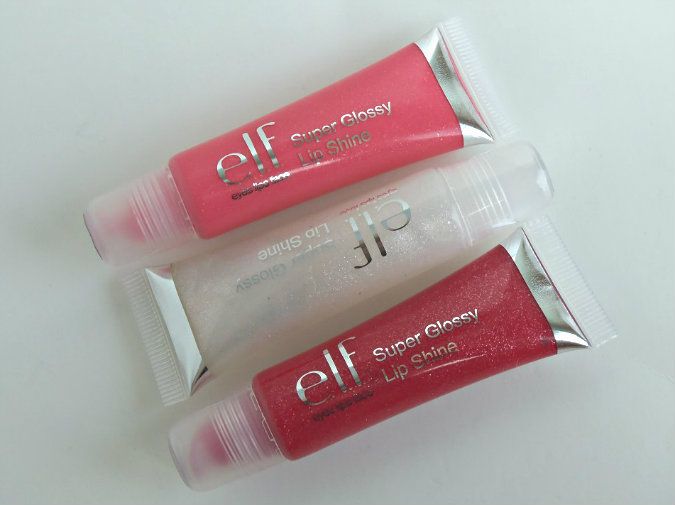 During every new collection that elf releases they usually include a $3 lip gloss set comprised of the Essentials Super Glossy Lip Shine set from their $1 line. I received last year's holiday 2012 gift set.
The colors in this set are holiday themed and don't show up on the permanent line, but I'm pretty sure that if they're not just permanent colors that were renamed, there's at least very close dupes available year round.
Here's the colors included:
-Sugar Cookie: thick shimmering white with multi-colored sparkles
-Sugar Plum Fairy: neutral mid-toned pink with golden sparkles
-Candy Cane: holiday red with pink undertones, pink and silver sparkles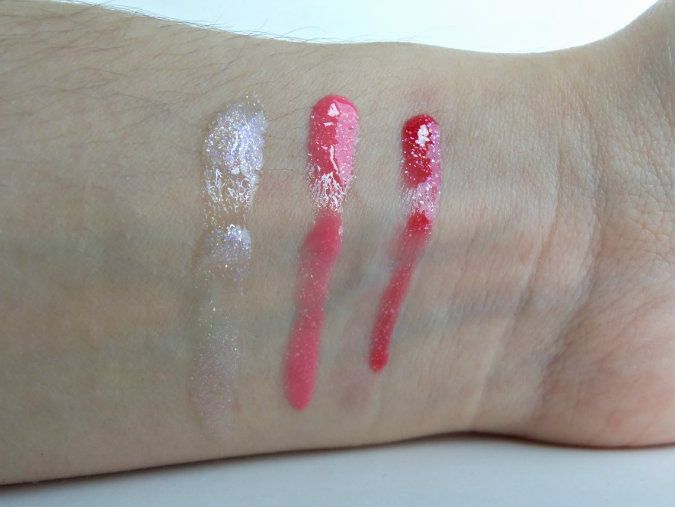 The glosses are very pigmented, but they are thick and sticky at the same time. The shimmer is also very prevalent on the lips and can be a little gritty.
What bothers me the most about this set is the smell. I think they're supposed to smell like vanilla, but it comes across to me as a strong, antibiotic smell, if you remember the smell of that pink goopy medicine from when you were younger. And it's very, very strong.
The ingredients also is another downside. These glosses are formulated with silica, mica, fragrance, methylparaben and propylparaben. Not exactly ingredients you want to be ingesting.
Here are the dupes that are available in the permanent range:
Sugar Cookie-Angel
Sugar Plum Fairy-Party Peach
Candy Cane-Strawberry
Really pigmented colors. I also like the colors that were chosen for the set, very appropriate for the holidays and would work well with many looks.
Horrendous smell, bad ingredients, made in China, thick and stick texture, really cheap packaging. Did I mention the smell? I feel the need to mention it again.
This set started off well but the second I opened the box all hopes went out the window. It's just not a good gloss. I can't say if the medicinal smell is the same for the permanent line too, but it's just nausea inducing for this set. It's a shame because the colors really are beautiful.
What do you think? Are you a fan of this range of lip glosses? Let us know in the comments!
Click here
to buy elf Essentials Super Glossy Lip Shine online for $1 each!
K. is the editor and founder of A Thing of Beauty. When she's not blogging or testing products K. is a full time journalism student.
To contact K., please email athingofbeautyblog@aol.com or tweet @Kathingofbeauty