Maryam Maquillage
is giving away a great Dinair airbrush system! (6/19)-hurry to enter!
There's a great giveaway going on at
Glam Polish
too-six shades of your choice from the China Glaze Safari collection! (6/30)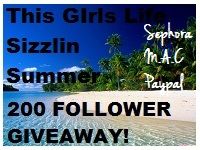 At This Girls Life
, there's a $25 MAC or Sephora gift card giveaway going on! (6/20, 6/24)
And, there's a NARS giveaway going on at
Lipstick Fridays
, but that ends in 197 days so there's plenty of time to enter(:
Also check out giveaways at:
Betzy's Makeup
-200 Follower Giveaway-Drugstore products (Wet n Wild, Covergirl, Sally Hansen, and more)-6/25
Vanessabeautyfix
is giving away a MAC lipstick or eyeshadow of your choice! And it's open worldwide. I chose Shale eyeshadow(: (7/2)
Links to all of the giveaways are embedded in the blog titles in the little blurbs above!
If you have a makeup giveaway going on right now, please leave the link to it in the comments!